The Deacon typically meet the second Thursday of each month at 7:00 pm in the Education Buildings Conference Room.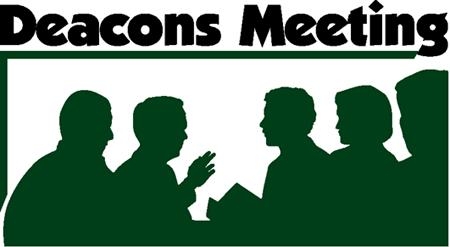 2 0 1 7
J

anuary 12
February 9
March 9
*

April 20
May 11
J

une 8
* J

uly 20
August 10
September 14
*

October 19
November 9
December -No meeting
---
~ Romans 12:3-6 ~
For by the grace given me I say to every one of you: Do not think of yourself more highly than you ought, but rather think of yourself with sober judgment, in accordance with the faith God has distributed to each of you. For just as each of us has one body with many members, and these members do not all have the same function, so in Christ we, though many, form one body, and each member belongs to all the others. We have different gifts, according to the grace given to each of us.
---